In the dynamic landscape of the net lease industry, cannabis has emerged as a burgeoning sector that demands attention. Over the past decade, it has swiftly carved out its own place as a new occupant class, garnering significant momentum in the last three years, fueled by shifting dynamics in other net lease assets during the pandemic.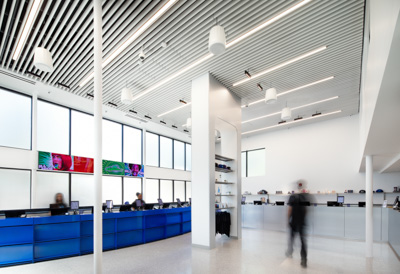 What sets cannabis net lease assets apart is their ability to deliver strong rent-to-sales ratios - a characteristic that is not easily found in more traditional retail assets. This impressive metric is a result of the exceptional performance of cannabis stores in terms of top-line revenue and sales per square foot. Unlike traditional retailers, cannabis dispensaries have demonstrated a remarkable ability to generate superior sales figures, providing tenants with a secure means to fulfill their rental obligations to landlords. This inherent strength in sales and revenue generation significantly enhances the stability and reliability of rental income, making cannabis net lease properties an attractive proposition for investors seeking a secure and lucrative addition to their portfolio.
In addition to the impressive rent-to-sales ratios, net lease cannabis properties benefit from formidable barriers to entry in many states. The cannabis industry operates under strict regulations, including the requirement of licenses to operate legally. Securing these licenses can be an arduous and complex process, creating significant hurdles for potential competitors. This, in turn, shields existing cannabis dispensaries from having their revenues diluted by the easy opening of competing locations. With limited competition and an established customer base, net lease cannabis properties enjoy a higher level of revenue security compared to traditional retail assets. The scarcity of licenses and the challenges associated with obtaining them fortify the value of cannabis net lease properties, making them a highly sought-after investment opportunity for astute investors looking for long-term stability and potential for growth.
In the past 24 months, we have witnessed a noteworthy compression of cap rates in the cannabis real estate segment. This trend has been driven by the ever-increasing influx of capital seeking lucrative acquisition opportunities, as cap rates for traditional long-term retail investments have plummeted to all-time lows. As a savvy investor, recognizing this shift early on can offer the opportunity to acquire these assets ahead of the curve, thereby maximizing the potential for outsized risk-adjusted returns.
While the cannabis real estate sector is still relatively young, it has witnessed a remarkable evolution in financing options over the past 18 months. This monumental shift in the landscape has opened up previously untapped avenues for real estate loans in the industry. It is crucial to note that the evaluation of these properties differs from that of traditional retail properties due to the unique nature of the cannabis market. However, as lending options become more readily available, equity requirements for acquisitions are likely to decrease further, pushing cap rates to more aggressive levels.
The potential for federal legalization of cannabis combined with the possible elimination of the 280E tax code – a provision currently restricting businesses that traffic "controlled substances" - presents an extraordinary opportunity for investors. Should these momentous changes occur, it would undoubtedly unleash a flood of national capital into net lease assets, causing cap rates to compress by a staggering 100 basis points or more virtually overnight. As a shrewd investor, being cognizant of the potential impact of these regulatory developments is paramount to capitalizing on the market conditions that could materialize in the near future.
Looking ahead to 2024, the cannabis industry continues to gain momentum. Two more states, Delaware and Minnesota, have legalized cannabis for recreational use, further expanding the market's reach. This development, combined with the anticipated rise in revenues from 2022, will inevitably spill over into the net lease space. We can expect to witness a proliferation of cannabis dispensaries in prominent retail trade areas, presenting a wealth of opportunities for savvy investors seeking to diversify their portfolios.
By carefully considering the unique advantages and opportunities presented by net lease cannabis real estate, investors can position themselves strategically in a burgeoning sector that offers immense potential for growth and profitability. As the market continues to mature and evolve, staying informed and seizing the right opportunities at the right time will be the key to reaping substantial rewards in this dynamic landscape.