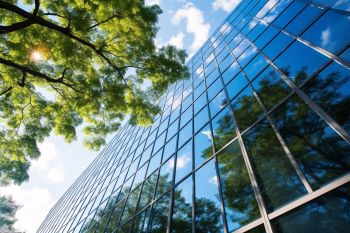 The COVID-19 pandemic wreaked havoc on supply chains and industries across the globe, but one of the most noticeable lingering effects from 2020 is the shift to remote and hybrid work. A study conducted in early 2023 found that 35 percent of workers who have jobs that can be done remotely are now entirely working from home. Additionally, the vast majority of people who can work remotely (76 percent) now work from home at least part of the time each week.
This transition to remote work has changed the shape of commercial real estate. Many companies no longer need office space that is large enough for each employee to have an assigned desk or dedicated workspace. Even with hybrid work policies in place, most companies are finding they can successfully operate on significantly less space than they previously needed.
What is often positioned as a crisis in real estate, however, may actually be an opportunity for investors. Developers are working to claim this unwanted office space and turn it into value-add multifamily dwellings. Here's what you need to know about this transition and the investment opportunities that come with it.
A Third of Office Leases Expire by 2026
If you walk through the central business districts of many major metropolitan areas, you may notice fewer employees and more empty offices. CoStar estimates the U.S. office vacancy rate to be 13.2 percent, with vacancies even higher in markets like San Francisco (19.6 percent), Houston (18.9 percent), Washington, D.C. (16.1 percent), and Los Angeles (15.0 percent).
As companies reach the end of their leases — a third of which are expiring by 2026 — many executives are looking to save money through downsizing. For example, Charles Schwab Corporation recently announced plans to reduce office space by closing or consolidating corporate locations in at least 10 markets. Other employers, including Google, AT&T, and even the U.S. federal government, have all announced plans to either allow leases to expire or make their excess square footage available for sublease. As companies execute on this strategy, the supply of office space will continue to grow as demand dwindles.
Understandably, this has some investors spooked. Many owners are considering selling their commercial real estate office investments or are watching the market, and their balance sheets, with concern. Even national banks and other lenders are wary of these trends, for fear of landlords defaulting on their loans.
The Solution Could Lie in Commercial-to-Residential Flipping
Owners of commercial office properties have a rare opportunity in today's environment to reposition their assets. Some building owners are currently working with developers to turn commercial properties into residential units with these buildings either supported by surrounding existing retail or becoming mixed-use units themselves, offering housing combined with retail amenities like gyms, restaurants, day care facilities, and hair salons, among others.
At face value, this looks like a solution that could appease almost every party. Investors can continue turning a profit on their buildings, and lenders can continue to receive payments and avoid defaults on loans. An increase in residential units could help with housing shortages too — especially with new units opening up in popular urban neighborhoods.
Transitioning to Residential Housing Isn't Easy
If the switch to residential housing is so popular, shouldn't developers across the nation already be working to make this change? While the concept is good in theory, there are several practical barriers to turning office space into multifamily units.
First, most offices are typically laid out differently from apartments or residential condos. Developers would have to almost completely demolish floor plans in order to accommodate residential preferences. A few examples include:
Plumbing: Instead of restrooms located in the common areas on each floor that are shared by employees, developers need to make sure each unit has plumbing that can accommodate individual toilets, showers, sinks, and dishwashers.
Heating and air: Commercial HVAC ducting for an entire floor needs to be updated so individual units have control of their own thermostats.
Natural light: Access to windows, and the ability to open them, is important for residential tenants and owners. In short, no one wants to feel like they live in an office.
Additionally, there need to be grocery stores nearby and other businesses that aren't always found in commercial districts.
In Washington, D.C., experts estimate that only five percent of office buildings are a good fit for this conversion to residential dwellings. This drops to three percent in New York City. A recent article in the New York Times estimated that converting these buildings could cost between $400 and $500 per usable square foot. From an ROI perspective, residential rent prices in New York average about $55 per square foot per month.
Governments Are Stepping in With Grant Programs
If you are mentally crunching the numbers to understand the cost of converting your commercial investments into residential units, don't be immediately alarmed by the high price estimates and ROI risk. There might be opportunities in your area to cover some of the costs to complete these conversions.
Multiple cities and states are working to provide grants to investors who want to take struggling commercial units and turn them into residential apartments. Here are just a few examples:
California lawmakers have approved $400 million in incentives for commercial-to-residential conversions, including $105 million to convert spaces to affordable housing units.
Wisconsin legislators approved a plan to grant interest-free loans of up to $1 million to developers who will convert empty office buildings and big-box retail stores into affordable housing.
Chicago city leaders plan to offer $197 million in tax-increment financing to developers who can convert vacant or underutilized office buildings.
Depending on where your investments are located, you might qualify for one or more programs that help fund your projects to make your commercial offices profitable once again.
While the transition from commercial to residential units might not be ideal for every asset, it is a high-potential opportunity that has the support of governments, residents, and lenders in many markets across the U.S. There are programs to help with the process, and that can potentially speed up an investor's return to profitability. For many owners, it may be a worthwhile exercise to consider evaluating which of your commercial office investments are viable contenders for a residential makeover.